ATT Launches Data Perks- A Rewards Program That Can Earn You Free Data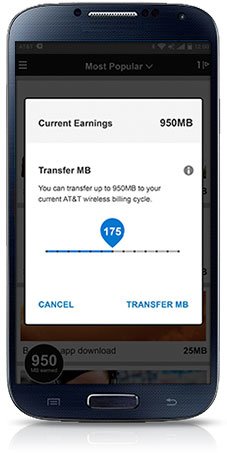 AT&T's new program called Data Perks gives customers a chance to earn extra data by completing various offers and activities such as taking surveys or by shopping among other things.  The offers are made available through the Data Perks app which is available on both iOS and Android.  The app is also used to keep track of and store a users earned data.  Through the program and app AT&T customers have the ability to earn unlimited data, however, there are a couple caveats. AT&T only allows its subscribers to transfer a maximum of 1000 MB of earned data from their Data Perks account to their mobile phone plan account in a given billing period.  Furthermore, data can only be transferred and applied to your account in increments of 25 MB.  Any unused data that you transferred over to your mobile account expires at the end of a billing period.  Earned data cannot be shared between lines on a Mobile Share Value Plan.
Data Perks earned data does not expire as long as the user logs into their Data Perks app at least once every 12 months and verifies their eligibility for the program.  If a user does not log into the app within the specified time frame they will lose 1/12 of the stored amount of MB in their account each month until they log back into the app.
Data Perks is available on all AT&T postpaid wireless plans that include data such as Mobile Share plans, and Mobile Share data-only plans to name a few.  GoPhone and prepaid plans as well as business plans are not eligible.
Analysis
I think AT&T's new program is a good way for customers to earn more data without necessarily needing to spend more money.  The idea of earning free data by completing surveys or offers is nothing new however.  Sprint MVNO's Freedompop and the newly launched CellNUVO also offer such programs.  The difference between AT&T's program and the other two companies programs is that Freedompop and CellNUVO both offer completely free cell phone plans to begin with whereas ATT does not.  The other companies also do not limit how much free data you can add to your account at a time.
So what do all you AT&T postpaid users out there think about Data Perks?  Have any of you signed up already?  Share your experience with the program in the comments section.
---
---