Altice Mobile Promo Has Ended, $30 Gets Subscribers 20GB Of High Speed Data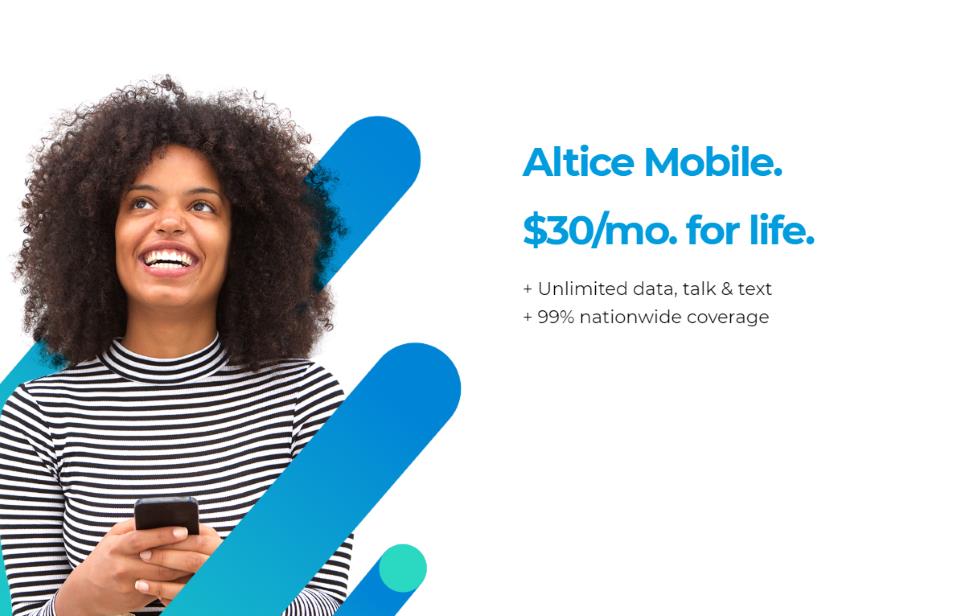 Last September, Altice Mobile was launched with great fanfare by the nation's 4th largest cable operator, Altice USA.  The wireless brand burst onto the scene by offering an unlimited talk, text and data plan with the first 50GB of data each month completely unthrottled for $20/month.  Customers who subscribed to the plan were promised that rate for life.  It was an outstanding value and billed as a limited time offer.  To get that special rate, customers also needed to be subscribed to either Altice USA's Optimum or Suddenlink branded cable or internet services.  Those who weren't a customer of either brand had to pay $30/month for the wireless plan.
Yesterday, Altice Mobile's limited time offer of $20/month for life came to an end.  Not only did the special rate end, but Altice Mobile also altered the wireless plan to the detriment of all new subscribers.
Altice Mobile's Updated Wireless Plan Only Includes 20GB Of High-Speed Data
Altice Mobile's updated wireless plan is now limited to just 20GB of high-speed data, after that, data speeds get throttled to 2G.  Under the previous version of the plan, data speeds were at high-speed and only slowed to 2G for video streaming and mobile hotspot once 50GB was consumed in a billing cycle.  For all other types of data, speeds remained at LTE data speeds.  So this plan update represents a drastic change in policy by Altice Mobile.
Altice Mobile's full terms and conditions page has not been fully updated to show changes to the data allotments, but they can be seen by clicking on "see more details" on the plan's details page.
To go along with the plan features change, there has also been a pricing change that affects all new customers.  All new customers now have to pay $10 more per month for service than they previously had to.  New customers subscribed to either Optimum's or Suddenlink's internet or cable services will now pay $30/month for Altice Mobile service.  Those without Optimum or Suddenlink will now pay $40/month for service.
All other plan features and fees remain virtually unchanged and are described below.
Taxes and fees cost extra, and the pricing shown includes a $5/month autopay discount.  Altice charges up to a $10 activation fee and says roaming charges may also apply.  A total of 5 lines are allowed per account, but there are no multi-line discounts.
Altice Mobile proclaims that LTE download data speeds will fall in the range of  6-8Mbps or 12-30Mbps depending on if the customer is in a 4G LTE network area or 4G LTE advanced network area.
Mobile hotspot speeds on the plan are limited to 600Kbps and video streaming is limited to a resolution of 480p.  Unlimited international talk and text to more than 35 countries is included with the plan as is full roaming while traveling in any of the 35 countries.  Data usage while traveling is limited to 1GB at 4G LTE speeds, however extra international data can be purchased billed at a rate of 1GB for $15 good for 15 days or $30 for 3GB good for 30 days.
Editor's Take
The rate hike was to be expected.  The drastic reduction in the plan's data allotment was not, and is certainly a disappointment.  It's quite possible the higher data allotment was permitted by Sprint as a promotional launch offering for Altice Mobile USA which does operate primarily on the Sprint network with roaming on AT&T.  Altice Mobile does have rights to a small cell wireless infrastructure that it built out in a partnership with Sprint.
---
---