Xfinity Mobile Offering $250 Back On Purchase Of Samsung Galaxy S10 And All New Samsung Devices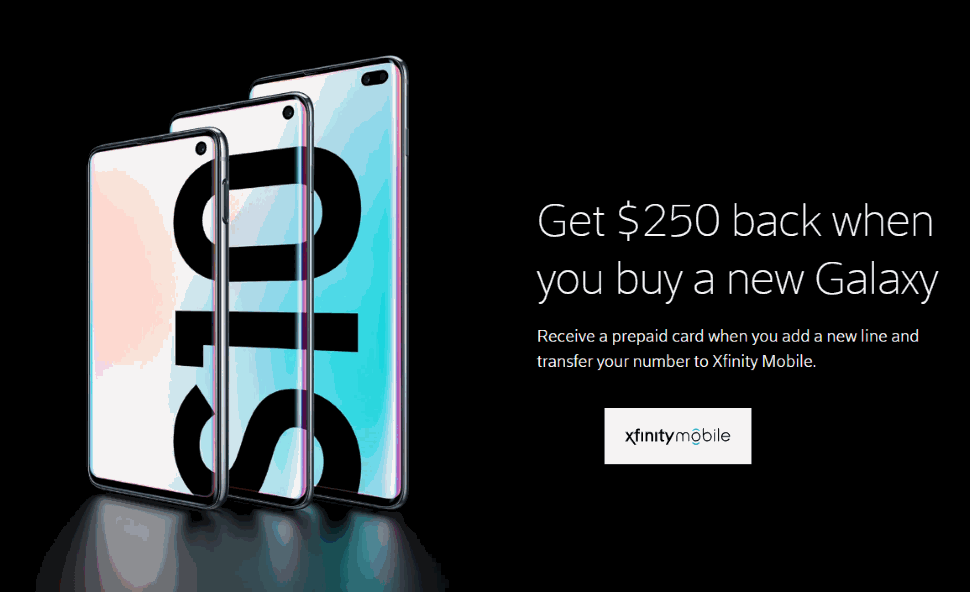 After several weeks of leaks, the Samsung Galaxy S10 series of devices were officially launched today.  Immediately after the announcement, we got our first few provider promos.  One promo is from Xfinity Mobile.
Details are a bit sketchy on the offer right now in terms of the fine print. What is known, is that starting on 2/21/19 and lasting until 4/7/19, those who preorder a Samsung Galaxy S10, S10e or S10+ or any other Samsung phone will receive $250 cash back in the form of a Visa Gift Card.  (Updated 2/21/19 with rest of offer details below.)
Just preordering the device won't get you the Visa Gift Card.  Customers must also activate a new Xfinity Mobile line AND port their number within 30 days of purchasing the phone.  Subscribers must then keep their line in good standing and active for at least 90 days.  A maximum of $1250 in prepaid cards will be issued per customer account.
If all requirements are met, subscribers will receive their Visa Gift Card within 16-18 weeks of activating their line.  The card expires after 180 days.
The Samsung Galaxy S10e is priced starting at $749.99 or $31.24/month.  The S10 will be available starting at a price of $899.99 or $37.49/month, and the S10+ will start at $999.99 or $41.66/month.
Xfinity Mobile also carries the Note 9 ($999.99), Galaxy S9 ($599.99), Galaxy S9+ ($699.99), Note 8 (599.99), and the Galaxy S8 ($499.99).  All device purchases are eligible for the $250 Visa Gift Card.
More About Xfinity Mobile
Xfinity Mobile is a postpaid wireless provider owned by Comcast that operates on the Verizon network.  Service is only available to those who subscribe to Comcast's Xfinity Internet service.  Plans start at $0/month for unlimited talk and text and 100 MB of data.  Customers who use more than 100MB of data in a month will get billed for additional data at a rate of $12/GB.  An unlimited data plan with the first 20GB at LTE data speeds is available for $45/month.
---
---