Hey you!  You with the expensive phone bill.
Did you know that your wireless phone plan may be costing you nearly 2x as much as it should be?  That could mean that you are lining someone else's pockets with hundreds of dollars a year instead of your own!
Stop!
Stop lining someone else's pocket with your hard earned cash, and start filling your own with it!  It's super easy to do when you switch to Mint SIM.  You'll wonder why you did not do it sooner.
Plans And Pricing
Mint SIM offers phone plans that start at just$15/month for unlimited talk, text and 2 GB of 4G LTE data.  That's not a typo!  This is real life!  You can get 2 GB of 4G LTE data for as little as $15/month!
You know who else offers 2 GB of data in a cell phone plan with unlimited talk and text?
Cricket Wireless.
Did I say 2 GB? Oh wait.  Make that 1 GB.  You know how much Cricket Wireless charges you for that?  $30/month!
Yuck!
Do you see what I mean now about how you might be paying nearly twice as much for your phone plan than you really need to?  Twice as much for half the data!  Isn't about time you stop?
Yes, I'm ready to stop paying too much! I want to join Mint SIM!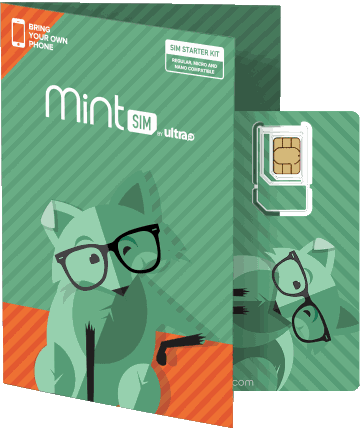 Maybe you are one of the people that 2 GB of data just isn't enough for.  Well you know what?  Mint SIM has you covered too.
If 2 GB of data isn't enough for you, Mint SIM offers more plans with more data.  And just like the 2 GB plan, those other plans might be able to chop your phone bill right in half.
Mint SIM has a phone plan for $20/month that includes unlimited talk and text with 5 GB of 4G LTE data.
Guess how much Cricket Wireless charges for a similar plan with only 4 GB of data?  Yeah, you're onto me now.  You guessed $40/month((Cricket Charges $35 if you enable auto pay)) because you've been listening and you know that Mint SIM can chop your phone bill in half!
If 5 GB of data still isn't enough for you, Mint SIM offers a plan with 10 GB of 4G LTE data and it's priced as low as $25/month!  Naturally, it also includes unlimited talk and text.  No other carrier offers more 4G LTE data for less!
You want more data from Cricket Wireless?  It's going to cost you.... wait for it.....$50/month!((Cricket charges $45 if you enable auto pay billing))  That's twice the price again and you only get 8 GB of data with Cricket Wireless, not the 10 GB that Mint SIM offers you!
What Else Does Mint SIM Have To Offer?
Wi-Fi Talk And Text
This one is on the house.  All Mint SIM phone plans come with free Wi-Fi calling and texting on supported devices. ((Wi-Fi calling and texting works with most Android devices but excludes iPhones))  That means if you're ever in an area with unpredictable coverage, you can simply connect to Wi-Fi to do all the texting and calling that you please.
Money Back Guarantee
If for some reason you find out that Mint SIM isn't right for you, they'll offer you a refund.  Mint SIM has a 7 day money back guarantee for new customers who purchase a 3 month plan that are dissatisfied with their service.
Add-Ons
More Data
If you ever run out of data in a given month, Mint SIM makes it easy to add more.  You'll pay just $5 for an additional 500 MB, $10 for 1 GB and $20 for 3 GB of 4G LTE data.   You can order over the phone, through your online account or just by a simple text message.  It's just that easy.
International Calling And Roaming
Do you need international roaming or calling?  Mint SIM offers both.  Just deposit a minimum of $5 into your account and your good to go.  You'll pay just $0.25 cents per minute to make and receive calls while roaming internationally, and just $0.05 to send an SMS text message from outside of the US. Receiving SMS text messages is completely free while roaming internationally.  Unused international roaming balances carry over from month to month and never expire!
About Mint SIM
Mint SIM is a T-Mobile MVNO that launched in 2016.  The brand is run by the same people who run Ultra Mobile, which launched in 2011.
Mint SIM customers save big on their phone plans by purchasing in bulk.  Subscribers can choose how many months in advance that they want to pay for service for with 3, 6 and 12 month plan options available.  Pricing starts at just $15/month for new customers on a 3 month plan.
For more about Mint SIM and to start saving money today please visit their website at https://www.mintsim.com/