Verizon Pushing Straight Talk Users To Its Network, Simple Mobile Has Verizon SIMs
In November of 2021, Verizon Wireless closed on its acquisition of Tracfone and all of its associated brands including Straight Talk Wireless, Simple Mobile, and Walmart Family Mobile among others. In February, BestMVNO reported that Tracfone brands were preparing to be available exclusively on the Verizon network. On March 1, Tracfone Master Agents/Distributors were said to have stopped purchasing AT&T and T-Mobile SIMs for the Tracfone brand. Consumers would be able to still activate Tracfone on any network at least through 6/30/22. But after that, dealers would no longer be able to activate AT&T or T-Mobile SIMs for their customers through their activation portals.
Verizon now seems to be taking the next step in trying to push its Tracfone and related brand customers over to its network.
Some Straight Talk customers using networks other than Verizon have stated on Reddit that they have started receiving text messages from Straight Talk. The texts inform them that Straight Talk will soon start hijacking their outbound calls (excluding 911 calls) by playing a recording that states they can switch over to the Verizon network and get a free SIM with a free month of service. It is unknown how many of Straight Talk's 9.5 million customers are on other networks besides Verizon, although an overwhelming majority are believed to be on Verizon. In most Walmart's, Straight Talk phones have been and continue to be sold with Verizon as the underlying network provider.
In order to gain regulatory approval to purchase Tracfone and its associated brands, Verizon wrote a letter to the FCC stating that:
"Verizon commits to honor the rates, terms and conditions of the MVNO agreements that Verizon is assuming from TracFone, and to provide resold voice and data services consistent with the terms of those agreements for at least 2 years after the transaction closes. Verizon also commits to negotiate in good faith with an MNO to extend the terms of TracFone's existing MVNO agreements for up to 3 years after the transaction closes if doing so would be necessary to avoid service disruption to a significant number of TracFone customers. Nothing in this commitment will require Verizon to modify the rates, terms, or conditions of any agreement it assumes from TracFone."
In other words, Verizon said it was committed to honoring the plans and agreements that each Tracfone brand had in place with its parent networks including AT&T and T-Mobile for at least two years after formally acquiring Tracfone. This would allow Tracfone and related brand customers to continue to use the network of their choosing until at least November of 2023. Furthermore, Verizon said it was committed to extending those agreements until up to 2024 if it had to in order to avoid causing a loss of service for a significant number of its customers. So if you're using Straight Talk on the AT&T network, Verizon was stating you could continue to do so at least until November of 2023 and possibly until November of 2024. But is Verizon already going back on its word?
The text messages and upcoming call hijacking that Verizon will force upon some of its Straight Talk customers seem like a rather aggressive way to get customers to stop using Straight Talk with networks other than Verizon. The annoyance of the hijacked calls may force some customers to switch to the Verizon network or move to another provider altogether sooner than they'd actually like. Although Verizon may still technically honor the MVNO agreements it has in place with AT&T and T-Mobile per its FCC letter, it seems Verizon isn't actually going to make it easy for its Tracfone customers to continue to use those networks.
Simple Mobile Now Has Verizon SIMs
Earlier this month, BestMVNO reported that Simple Mobile now has an in-store-only offer of 4 unlimited lines for $100. Promo material for the offer states that Simple Mobile uses a 5G nationwide network. Simple Mobile has previously always noted in its promos and on its website that it's powered by the T-Mobile network. But that T-Mobile branding has now also been removed from the Simple Mobile website.
A Reddit user has pointed out that Simple Mobile now has a Verizon branded SIM for 99 cents. The Verizon branded SIM card can be found alongside a T-Mobile SIM on Simple Mobile's website here: https://shop.simplemobile.com/shop/en/simplemobile/simcards. I'm not exactly sure yet who can get the Verizon branded SIM as when you visit the link provided you are asked to input a zip code. Once I put in my zip code, the Verizon branded SIM disappeared for me. I tried zip codes from several other markets in different states and the Verizon SIM also disappeared for those zips as well. All the markets I tested have great coverage on the Verizon network too. So my guess is either the SIM card is there by mistake, Verizon is offering it as a test in a limited number of markets, or it's only available for those using Simple Mobile's device compatibility checker with a Verizon branded phone. Either way, it looks like Verizon branded Simple Mobile SIMs will become more readily available very soon.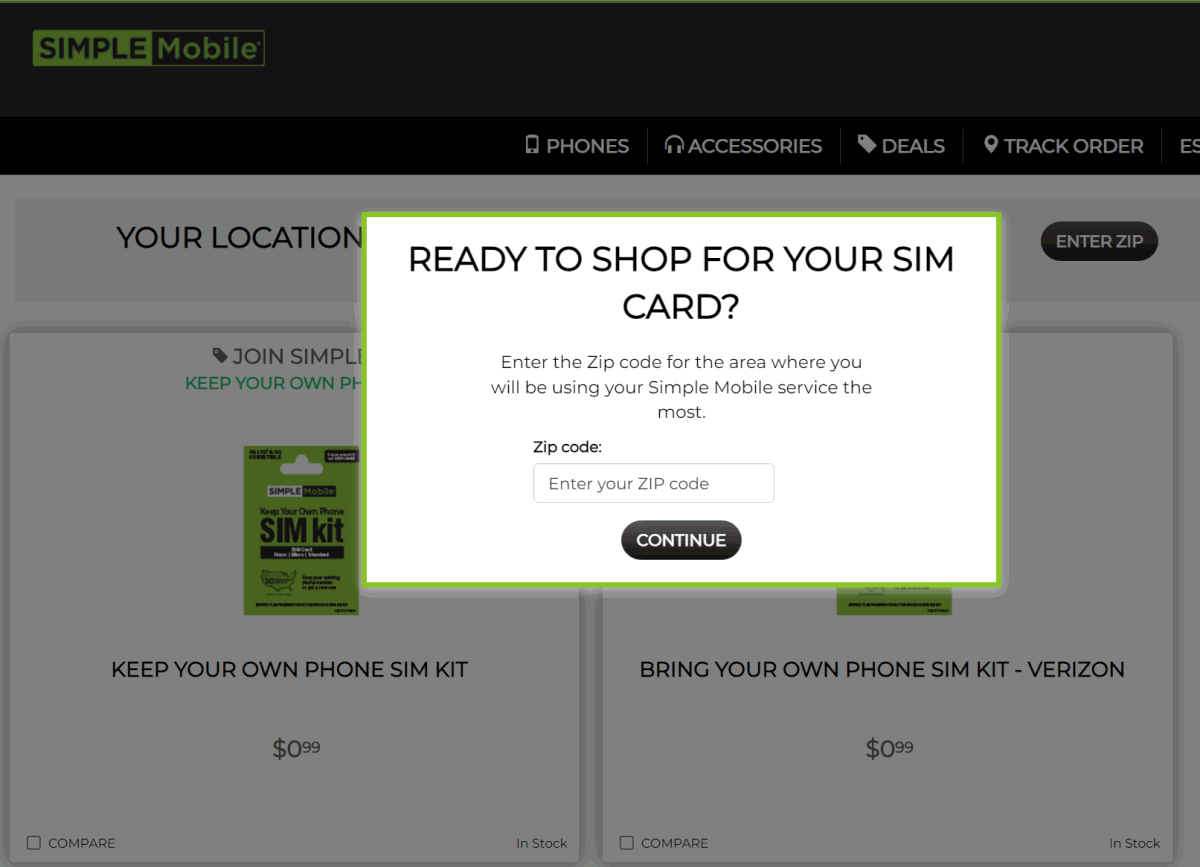 Update: A website visitor has notified BestMVNO that Simple Mobile is also now selling a Verizon version of the iPhone 11. The Verizon version of the phone is hidden on the Simple Mobile website but can be found here https://shop.simplemobile.com/shop/en/simplemobile/phones/sm-iphone-11-64gb-vzn. The VZN at the end of the website address is an indicator that the phone is meant for use on the Verizon network. Furthermore, this version of the iPhone does not have any reviews. Conversely, the Simple Mobile iPhone 11 model meant for the T-Mobile network which can be found here has nearly 200 reviews.
It isn't a surprise that Verizon would want to move its newly acquired Tracfone customers over to its network as soon as possible as it would be more profitable for them to do so. However, the manner they are going about it may be a bit in contrast to the commitment letter they wrote to the FCC.
---
---