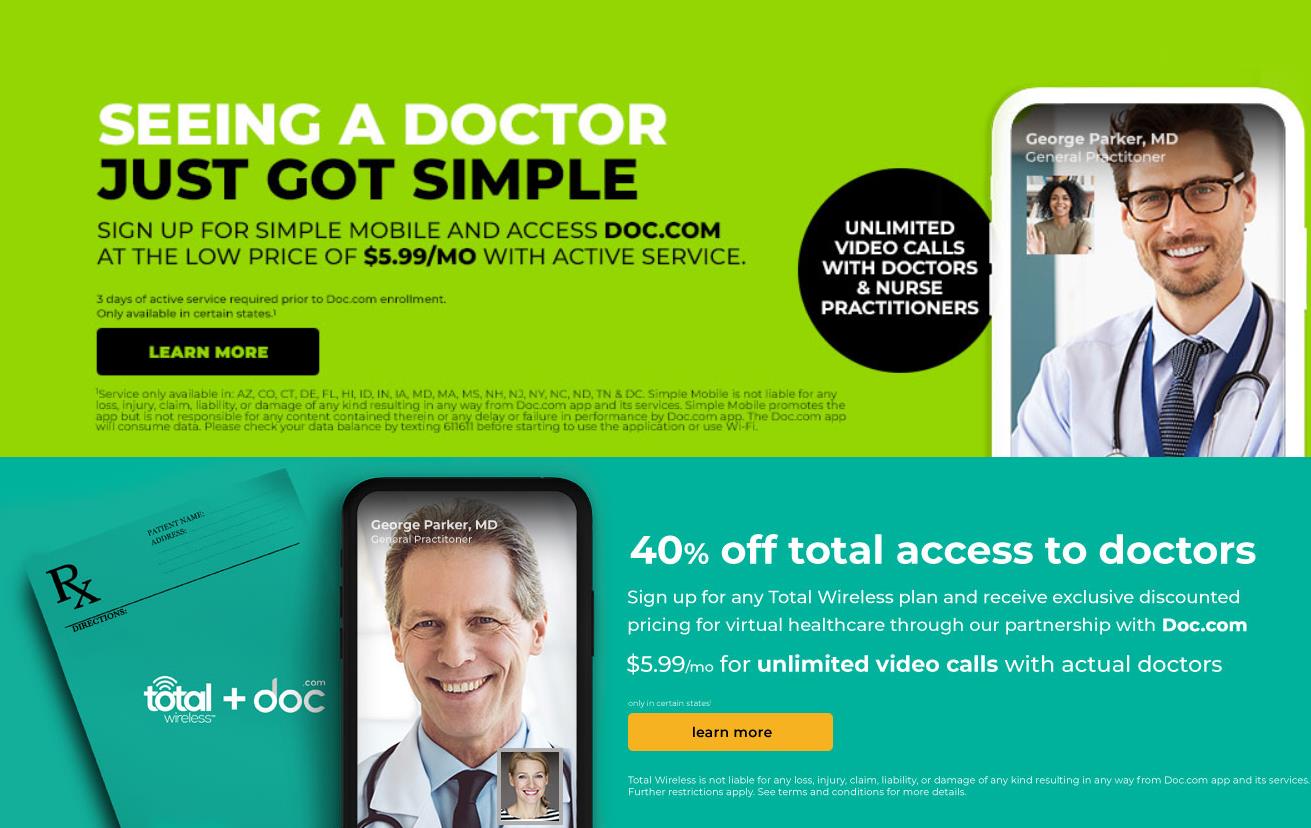 ---
Tracfone brands Total Wireless and Simple Mobile have partnered with doc.com to offer telehealth services. Both wireless brands have been advertising the new service for the past few days on social media platforms like Instagram and Facebook. Industry analyst Jeff Moore, Principal of Wave7 Research, has yet to observe any references to the new service at national retail stores. However, in-store advertising should follow soon. The new service is also now prominently featured on both the Simple Mobile and Total Wireless websites.
The Doc.com Telehealth Service Will Be A $5.99/Month Add-On
The doc.com health service is normally sold as a standalone offering for $9.99/month. However, Simple Mobile and Total Wireless subscribers can add it to any wireless plan for $5.99/month. New Total Wireless and Simple Mobile subscribers must first go through 3 days of active service before they can add doc.com to their plans.
Be informed of the latest deals, plans and promotions from Verizon and every one of its MVNO's when you subscribe to the Verizon weekly newsletter. No spam and you can unsubscribe at any time!
Not all subscribers will be able to add the new feature to their plans. The telehealth add-on will only be available to customers residing in a handful of states which include AZ, CO, CT, DE, FL, HI, ID, IN, IA, MD, MA, MS, NH, NJ, NY, NC, ND, TN. It will also be available to those living in DC.
Total Wireless And Simple Mobile's Doc.com Partnership Will Allow For Unlimited Video Calling To Doctors
Doc.com says that its subscribers will have access 24 hours a day to medical and psychological care. Those who signup for the service through their Total Wireless or Simple Mobile wireless plan will get unlimited video calling with real doctors and nurse practitioners. The calls will not count against a subscriber's high-speed data cap. Correction: representatives confirmed to BestMVNO that calls over cellular data DO count against the subscriber's data cap. Those who signup for the service will also get free written prescriptions to their local pharmacy. The Tracfone brands are also highlighting that the service will allow subscribers to "receive medical care while aligning with current social distancing practices."
Simple Mobile has put together a shortlist of the steps subscribers must take to activate a doc.com subscription. The same steps will apply to Total Wireless subscribers.
Activate a wireless plan, then after 3 days download the doc.com app (available on both Android and iOS devices).
Login to the app by selecting "company partnership login"
Click on the Simple Mobile (or Total Wireless) logo
Enter your active Simple Mobile or Total Wireless phone number and you'll be all set up
Telehealth Services Bundled With A Phone Plan Has Been Tried Before
The idea of bundling telehealth services with a wireless plan is actually not new. ROK Mobile, which is no longer a wireless service provider, tried offering it with its plans back in 2016. ROK was also offering accidental death insurance. At the time, the features seemed like an odd pairing, but perhaps they just came about at the wrong time. Given the current state of the world with the COVID-19 pandemic, and the fact that doc.com includes video access to doctors through the use of mobile phones, the bundling of telehealth services with a phone plan seems like it makes a lot more sense today than yesterday.
---
---