Simple Mobile Launches Promotional Double Data on Select Plans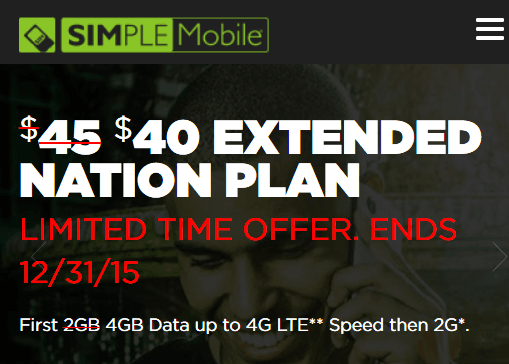 Simple Mobile, one of several TracFone owned brands, and a T-Mobile MVNO has launched a new promotion that doubles the amount of data on three plans until the end of the year, 12/31/2015.
New Plans and Promotions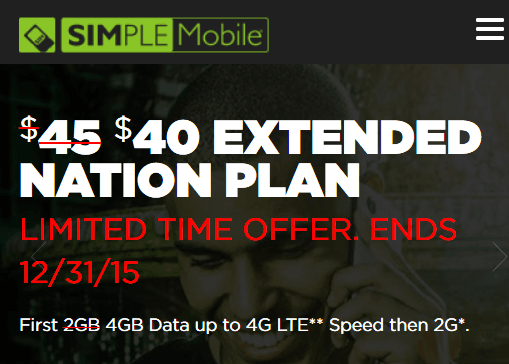 As part of the promotion, Simple Mobile's $45 plan got a price reduction to $40 or $37.50 with auto pay, and it now includes 4 GB of 4G LTE data instead of 2 GB.
The $55 plan which is $49.50 with autopay, is getting a data increase from 4 GB to 8 GB as part of the double data promotion.
Both plans include unlimited talk, text and data, with data speeds reduced to 2G (64-128 kbps) once their high speed allotment is used up.  Unlimited international texting and calling is also available with each plan.  International calling includes calls to over 50 countries (only 15 unique countries can be dialed during a billing period), some of which are landline only, while some include mobile calls.  Both plans can be used in the USA and while roaming in Mexico.
Simple Mobile's $50 plan, $45 with autopay, also got its high speed data doubled from 4 GB to 8 GB.  Unlike the other two promotional plans, this one does not include international calling.
A $60 unlimited 4G LTE data plan is also being offered, but no word on what unlimited data really means.  For T-Mobile unlimited data plans get de-prioritized and thus slowed down during times of network congestion once a user goes over 23 GB of data and so Simple Mobile likely does the same thing or certainly does not allow more than 23 GB of data before de-prioritization takes place.
Regular Plans with Data
Simple Mobile also has a non promotional plan that includes unlimited talk, text, data, and international talk and text for $60 or $54 with autopay.  The plan includes 10 GB of 4G LTE data before throttling.  A similar plan is also offered for $55 that does not include international calling.  The autopay discount is also a limited time offer.
---
---