Republic Wireless Now Selling LG Phones, LG K30 Is First Available For $99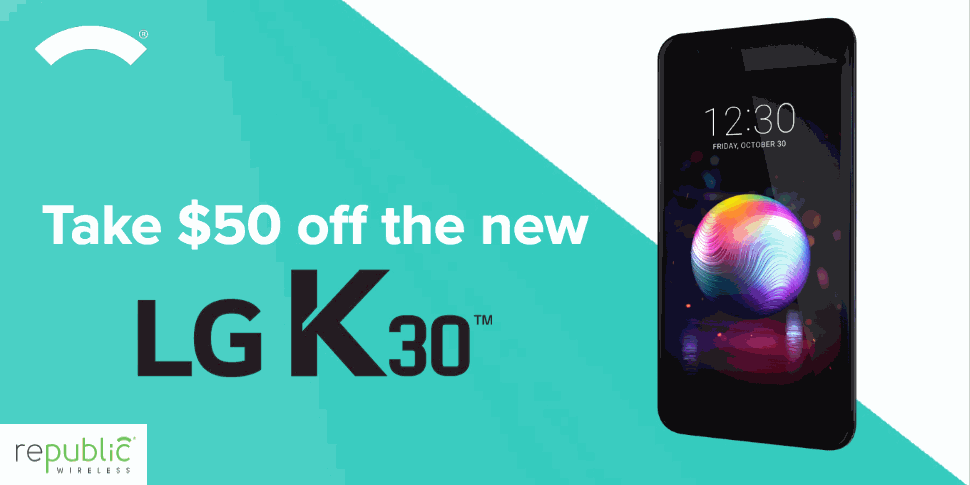 It looks like Republic Wireless is now going to start selling LG phones in its phone store.  The first one to become available is the LG K30.  As part of its launch and for a limited time it will be on sale for $99.  That's a savings of $50 over what will be its regular price of $149.  Customers will be able to purchase the device with financing at a starting price of $17/month.  As far as I'm aware, this is the first time Republic Wireless has ever offered a phone from LG to its prospective and current customers.
LG K30 Offer Details And Device Specifications
The LG K30 is scheduled to be on sale until 3/28/19 at 11:59 PM EST or while supplies last.  Taxes are not included in the price.  There is a limit of 4 phones allowed for purchase per customer.
The phone has the following specifications:
5.3" 720p x 1080p display
1.4 GHz Quad-Core Qualcomm Snapdgragon 425 processor
16GB of internal storage expandable with a microSD card
2GB RAM
8MP rear camera
5MP selfie camera
3,000 mAh battery
Android 8.1 Oreo
Support for the following LTE bands:
2,4,5,12,13,66
Republic Wireless is an MVNO that operates on both the T-Mobile and Sprint networks.  The LG K30 however, is not compatible with the Sprint network.  So cellular service with this phone on Republic Wireless will be provided by the T-Mobile network.
The LG K30 being offered here is sold unlocked and it's model number is LMX410ULMG.  It is one of the phones listed in the BestMVNO phone carrier compatibility database.  If you are interested in purchasing this phone and wonder what other providers it may work with, you can find out by checking out the LG K30's carrier compatibility specs.
For comparison's sake, the phone is also available for purchase from Amazon as a Prime Exclusive phone for $139.99.  It is available at Best Buy with 32GB of internal storage for $176.99.  So the offer from Republic Wireless looks to be a pretty good deal.
If you're not interested in this phone, Republic Wireless also has a couple of other offers going.  Prospective new customers who subscribe to Republic Wireless's newsletter will receive the ability to buy any new phone for $40 off.  I was greeted by a popup window showing me the offer when I first visited the Republic Wireless website today.  However, on subsequent visits and with different browsers I did not see the offer again.  I signed up for their newsletter through the subscription form that is always shown on their homepage to see if I would get the offer anyway, even though I didn't do it through the pop-up window.  I did, and the offer was sent to me within minutes of subscribing.  Republic Wireless says the offer will only be available until 3/10/19.  Customers must activate as a new line within 30 days of purchasing their phone and remain a subscriber for 60 days.  If you fail to meet either requirement, Republic Wireless will charge $40 back to your card on file.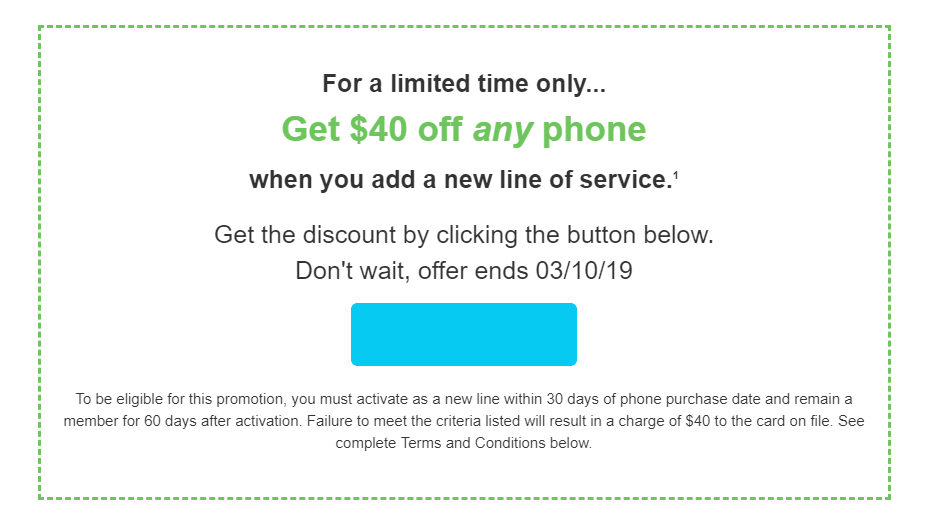 The other available offer is a switcher offer.  New customers can get 2 free months of service when they switch to Republic Wireless.
---
---