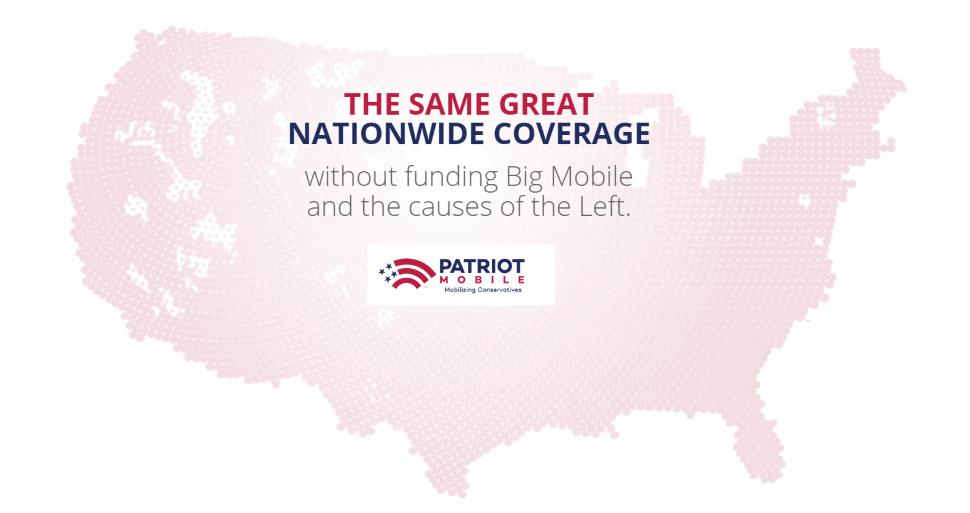 In this guide, I will explain everything you need to know about Patriot Mobile before you subscribe. I want you to learn the ins and outs of Patriot Mobile so that you can make an informed decision on if this is the best place for you to spend your hard earned cash.
---
Patriot Mobile At A Glance
Logo:

Year Founded:
2012
Networks Used:
T-Mobile
LTE Bands Used:
2
4
5
12
66
71
5G Bands Used:
n41 (2500MHz)
n71 (600MHz)
n258 (24GHz)
n260 (39GHz)
n261 (28GHz)
Support For BYOD:
Yes
Sells Phones:
Yes
All Taxes And Fees Included In Price?
No
Online Payment Options:
Credit Cards
---
A Summary Of Patriot Mobile Phone Plans
Last Updated: Mar 28, 2022
No Credit Check Single Line Monthly Prepaid Plans
---
No Credit Check Prepaid Plans With Family Discounts
---
---
advertisement
---
Things To Know About Patriot Mobile Before You Subscribe
Patriot Mobile was founded in 2012.  The provider aims to help you "to fight the liberal agenda through your phone."
Every dollar spent through a subscriber's Patriot Mobile phone service is used to support conservative causes such as honoring veterans, helping first responders, and defending the second amendment rights of gun owners.  Patriot Mobile also supports many other organizations and causes which are outlined here.
Customer Referral Program
Patriot Mobile offers a generous referral program.  Subscribers who refer a new customer will receive $10/month off of their phone bill for up to 12 months.  Subscribers can earn referral credits for up to the amount of their phone bill.  As an example, if a customer has a $50/month phone bill, they can earn referral credits for referring up to 5 people. That would get the referring subscriber enough credits to completely cover the cost of their phone bill for up to one year.
Patriot Mobile Offers 4 Phone Plans
There is a total of 4 Patriot Mobile phone plans, and all of them use Sprint's network to provide service. However, due to the Sprint/T-Mobile merger, it is expected that Patriot Mobile will transition over to providing service through the T-Mobile network. There are hints on Patriot Mobile's website right now that suggest this transition has already started. The company's phone plan details all say that they include data roaming. Patriot Mobile does not disclose what network it roams on, but given that Sprint is now owned by T-Mobile, T-Mobile is highly likely the roaming network. Most MVNOs do not offer real roaming.
A quick look at Patriot Mobile's plans reveal the following options:
$25/month – 0.5GB of hard-capped data plus Mexico and Canada calling
$35/month – 3GB 4G LTE/5G data
$45/month – 10GB 4G LTE/5G data
$55/month – 22GB 4G LTE/5G data
The $25 plan does not include unlimited data at 2G (slow) data speeds. That means once data runs out on the plan, customers will not be able to access the internet for the rest of their billing cycle. All other plans include unlimited data at 2G data speeds once their high-speed allotment runs out. Customers should be aware that for many online activities data speeds at 2G are very slow and barely useable if they even are at all. Customers with 2G data will be able to send emails, may possibly be able to stream audio. Websites will likely load very slow if they do at all, and videos either won't play or will be extremely pixelated and blurry.
Basic Features Included With Every Patriot Mobile Plan
Taxes and fees cost extra
Unlimited calling
Unlimited texting
VoLTE HD Voice calling
WiFi calling
Mobile hotspot/tethering capabilities (with the exception of the $25/plan)
Data roaming (with the exception of the $25/plan)
Family Plan Options
Patriot Mobile does offer discounts to those that have more than 1-line of service. The discounts vary by plan. There does not appear to be a limit to the number of lines allowed per account. A test order I did on their website allowed me to add more than 30 lines to my shopping cart.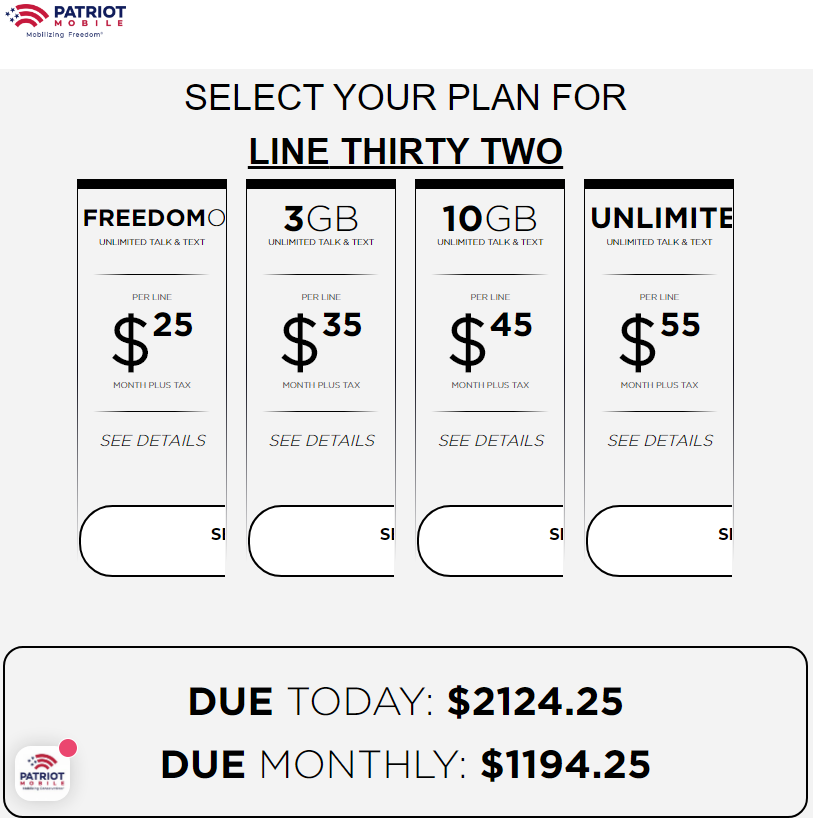 Potential Hidden & Extra Costs
Patriot Mobile charges subscribers a $30 activation fee per line of service. According to their terms of service, a non-refundable fee may be charged when customers activate a new number, ask for their number to be switched to a different phone, request a number change, or activate an additional line on their account.
Customers do have the option to add caller ID to their plans for an additional $2.99/month.
Subscribers ordering a phone can have it shipped preactivated for an additional $10. There is a 14-day device return policy in place. Customers will have 14 days from either the date they accepted their product shipment or activated a line, whichever is earlier, to ask to cancel their plan and return their device. Activation fees and the cost of the service plan canceled within that time frame will be refunded to the customer. Returned devices are subjected to a $35 restocking fee.
Customer Loyalty Device Discount Program
Patriot Mobile does offer what it calls loyal customers a discount on phone purchases. Loyal customers are those that maintain service on an account with good standing for at least 18 consecutive months. Those that do are rewarded with a 20% discount (maximum of $150) off the retail price of a single device purchased from the provider. The device purchased at a discount can only be used with the existing line of service or a new line of service that gets added to an existing account.
---
Supported Phones And BYOD Devices
Any device that is compatible with the Sprint or T-Mobile network is compatible with Patriot Mobile. Most phones that are sold unlocked directly from Motorola and Samsung are compatible. Devices that have been used with Sprint must be paid off in full and have no financial obligations on them before they can be moved over to Patriot Mobile.
---
Where To Buy Service Plans And SIM Cards
Patriot Mobile SIM cards and plans must be purchased directly through the company's website.  The MVNO charges a $30 activation fee per line.
---
Patriot Mobile Customer Service
Customer support is available 6 days a week with the following hours of availability:
Weekdays: 8:00am – 8:30pm CST
Saturday: 9:00am – 6:00pm CST
Sunday: Closed
---
Patriot Mobile Customer Reviews