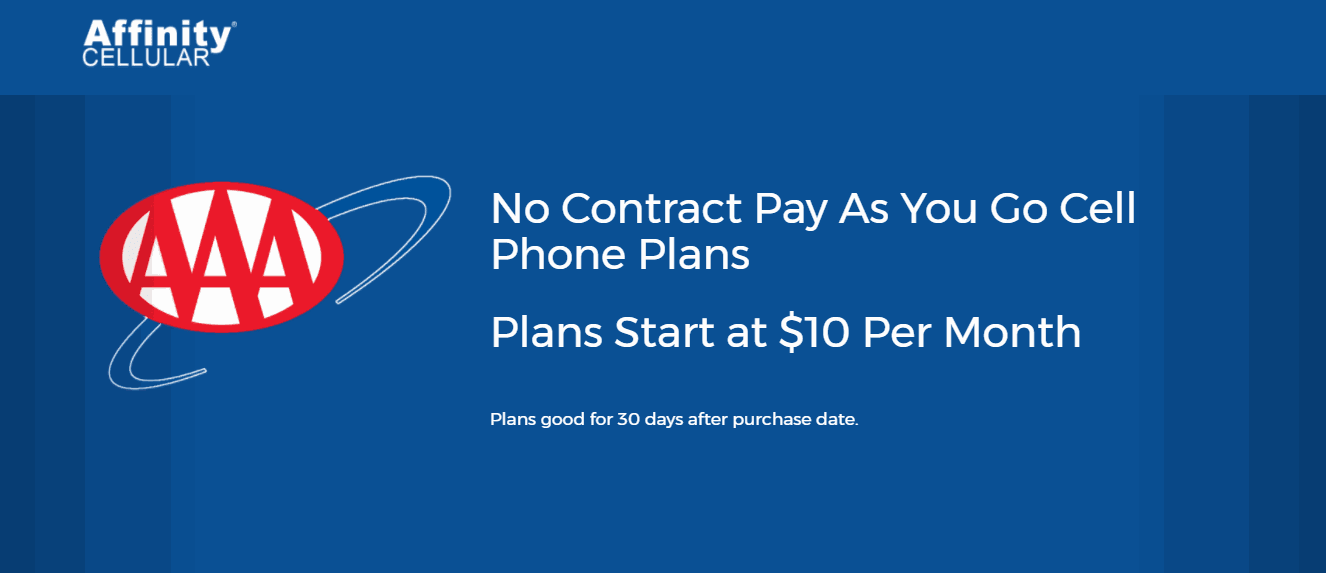 Deals
Sorry, BestMVNO could not find any deals from Affinity Cellular at this time


Affinity Cellular Cell Phone Plans
Provider
Talk
Text
Data
Price
250
Unlimited
500 MB
$20
1500
Unlimited
1 GB
$25
3000
Unlimited
2 GB
$35
Unlimited
Unlimited
5 GB
$45
---
advertisement
---
Things To Know About Affinity Cellular
Affinity Cellular is a Verizon MVNO that was founded in 2010.  The company's cell phone plans can only be purchased by those who are AAA members.
Affinity Cellular offers a limited 45 day money back satisfaction guarantee. Those who have subscribed to the service for 45 days or less, have used less than 45 voice minutes , 45 text messages and 45 MB of data may get a full refund for the cost of their plan, handset and activation fee if they are unhappy with the service.  Additional service fees that may have been applied to your account are non refundable.
According to some Facebook reviews, the company doesn't have the greatest reputation for customer support and website maintenance.  Affinity Cellular was not responsive to an email I sent them in regards to their service.
Company Highlights
Logo:
Year Founded:
2010
Networks Used:
Verizon
Support For BYOD:
No
Sells Phones:
Yes
All Taxes And Fees Included In Price?
No
Contact Information
Website:
https://www.affinitycellular.com/plans
E-mail:
[email protected]
Phone Number:
866-488-8717
Address/Headquarters:
Affinity Cellular
955 Kacena Road Suite A
Hiawatha, IA 52233
Social Media Accounts
Facebook
Google+
---
Porting Out From Affinity Cellular
Requires emailing Affinity Cellular to get your account number and password from them. You can also try calling them.
---