Former Virgin Mobile Executives Launch New Sprint MVNO Mast Mobile: Offers 2 Numbers On 1 Phone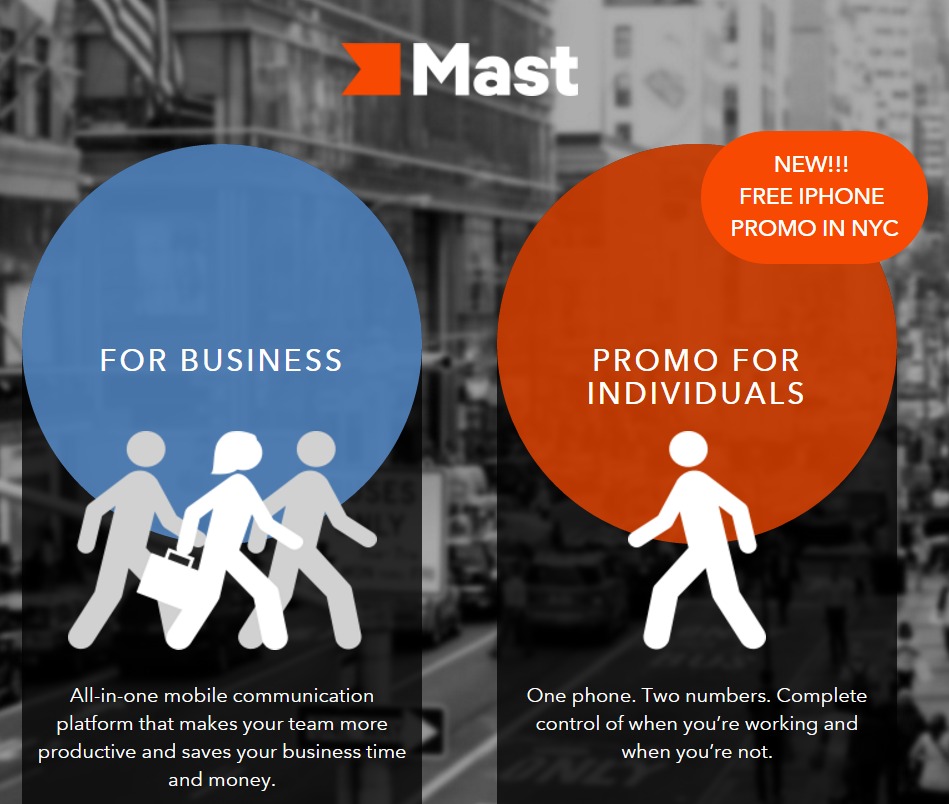 A new MVNO has just launched raising over $12 million in funding for the endeavor.  The MVNO is called Mast Mobile and it was started by two former Virgin Mobile executives David Messenger and Peter Lurie as well as Bubba Murarka and David Dawson.  Service is currently provided utilizing the Sprint network, although the company is looking to secure a deal with another network partner.
The MVNO hopes to differentiate itself from its rivals by offering subscribers two different phone numbers on one phone, one for personal use and the other for business use all on a single SIM.  Those interested in the service are able to port their current phone number over to the MVNO while also getting a new one, or they can opt to get two new phone numbers.
Video Demonstration of How The Service Works
Company Strategy
Mast Mobile's strategy as you can surmise is to target businesses, including free lancers, sole proprietors and enterprises.   Mast says its system will integrate well with enterprises
since they are using Oracle's billing and revenue management platform which offers employers the ability to enable automated split billing for voice, messaging and data.  With that system, businesses get charged for both service lines as well as any additional usage it has agreed to, while the employee gets charged for any extra features that he or she wants to add to his or her personal line.  Employees will be happy to know that the system does not allow the employer to track their personal phone number use.
The Mast Mobile platform also integrates with another software platform known as Salesforce which allows for comprehensive reporting and tracking of information such as sales calls.  Security features that can be used to protect your companies information such as password protection, remote wipes and encrypted backups are also included.
Cost
Enterprise/Business
The costs associated with using the service for enterprises can be seen in the table below:
Software
Monthly Cost
Features
Communications Platform
$30/User

One work number and one personal number on one device
Mobility management platform with automated split-billing
Device security
Number work on laptops and any connected device

Optional Sales Productivity Package
$30/User

Automatically creates a task from all mobile calls to Salesforce contacts
One work number for mobile phone and click-to-call capability improves productivity

Voice and Data Plans
3GB (most popular)
1, 5, 10 GB Options
$45/User

Unlimited voice and text for both work and personal numbers
Low international dialing rates
Free wi-fi calling when roaming

Devices
BYOD or iPhone Rental
Starting at $20

BYOD for $5 per SIM
Rent devices for 12 months and then upgrade
Sole Proprietors/Individuals
Currently the company is offering a special deal for New Yorker's, promotional pricing of $20/month for unlimited talk, text and 1 GB of data.  Extra data can be added at a price of $10/GB.  Regular pricing for this plan is $50/month.
Individuals that don't need some of the extra features provided by Mast Mobile may find Google Voice/Hangouts to be a viable and free alternative to obtain a second phone number to use with their device.
---
---