Kroger Wireless Plans Now Include 20% Auto-pay Discounts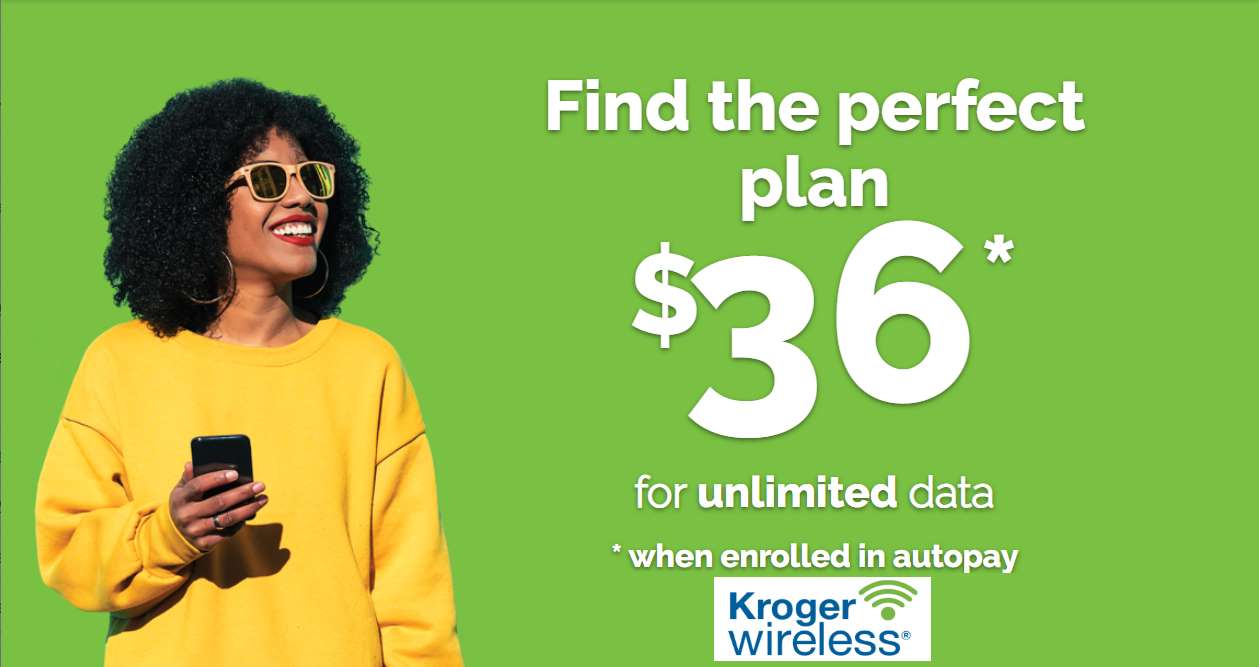 ---
Did you know BestMVNO is available to follow for free in Google News? Follow BestMVNO in your Google News app and keep up to date on wireless.
Follow BestMVNO In Google News
---
---
Kroger Wireless has updated its wireless plans to allow subscribers to get a 20% discount when they enable autopay billing. The exact date that the update occurred is unknown. But according to a prepaid report issued by Wave7 Research, the pricing adjustment likely went into effect in 2021. Wave7 Research noted there was no such discount available on their plans in December of 2020.
The autopay discount is not the only thing to recently change at Kroger Wireless. Late in 2020, the company updated its $45 unlimited plan to include 25GB of high-speed data before throttling, an increase from 20GB. The MVNO previously operated on the Sprint network. But now there's a coverage map available showing T-Mobile's network. Sprint MVNOs have had to gradually transition over to the T-Mobile network as a result of T-Mobile acquiring Sprint last year. It is unknown when this change occurred with Kroger, but was likely late in 2020 or in January of 2021. Other Sprint MVNOs such as Tello only began to announce their transitional plans at the end of 2020. Kroger Wireless still does have a Sprint coverage map on their website as well, but it is unclear if they are still activating new service on that network.
Kroger Wireless's Updated Plans With Auto-pay Discounts
Kroger Wireless offers just three wireless plans. The available options are described below.
$25 ($20 with autopay billing) - 2GB high-speed data
$35 ($28 with autopay) - 5GB high-speed data
$45 ($36 with autopay) - 25GB high-speed data, unlimited 2G data
All three plans include unlimited talk and text. The $25 and $35 plans have hard-capped data. The $45 plan includes unlimited data at 2G data speeds once the plan's high-speed allotment gets consumed. According to the Kroger Wireless's terms and conditions, mobile hotspot is included with each plan.
Subscribe to BestMVNO and always be informed of the latest deals, plans and carrier promotions!
"Kroger Wireless is a minor MVNO, but with more than 2,000 Kroger stores, the carrier is worth watching. It is interesting that Total Wireless is getting more visibility than Kroger Wireless on displays at Kroger stores." -- Jeff Moore, Principal of Wave7 Research
BestMVNO does not heavily track the actions of Kroger Wireless. Kroger Wireless does not market its plans nationwide and its social media pages rarely get posted to. The provider also doesn't really invest in online marketing. Although Kroger Wireless is available online, phones and service plans are sold and marketed in stores through the Kroger family of grocery stores that include Kroger, Dillons, and Ralphs among several others. Kroger Wireless was formerly known as i-wireless but was rebranded to Kroger Wireless in 2019. The i-wireless brand launched in 2006.
---
Be sure to follow BestMVNO on Twitter for additional wireless coverage, deals, insights, and even debates!
Follow @BestMVNO Twitter
---
---