iWireless Adds New Value Plan and Bonus Data to Another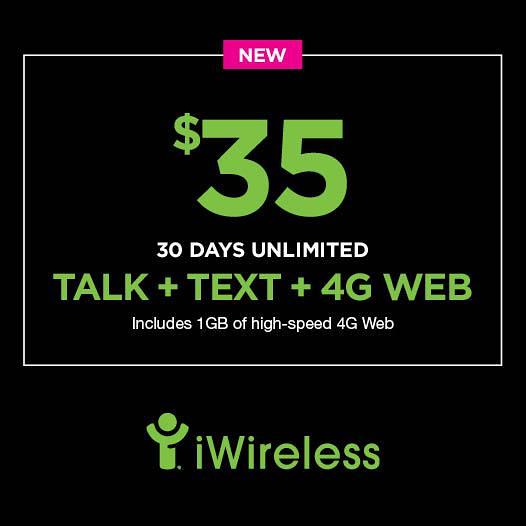 ---
Did you know BestMVNO is available to follow for free in Google News? Follow BestMVNO in your Google News app and keep up to date on wireless.
Follow BestMVNO In Google News
---
---
         iWireless is a little known T-Mobile MVNO that's been flying under the radar since 1997.  Recently, one of our website followers "Will" uncovered a new offering from the company.  iWireless now has an unlimited talk, text and data plan for $35.  Like many other MVNO's and service providers however, iWireless also has limits to their unlimited data plan.  Fortunately they are rather up front about it and in clear print you can see the plan comes with 1 GB of 4G HSPA+ data, and any data beyond that gets throttled to 2G speeds which top off at 128 kbps.
        The new plan that has really caught my eye though is one that iWireless lists as being a special sale although no end date is noted for this sale.  This is another plan that includes unlimited talk, text, and data except you get 6 GB of 4G data before throttling all at a cost of $45.  This makes iWireless the king of value at this price point for as long as they offer the sale.  Boost Mobile was the previous king of value as they give you 5 GB of LTE data at that ultra competitive $45 price point.  If you'd like a family plan iWireless is also offering for a limited time 20 GB of 4G data with unlimited talk and text for a family of 4 for $100.
---
Be sure to follow BestMVNO on Twitter for additional wireless coverage, deals, insights, and even debates!
Follow @BestMVNO Twitter
---
---