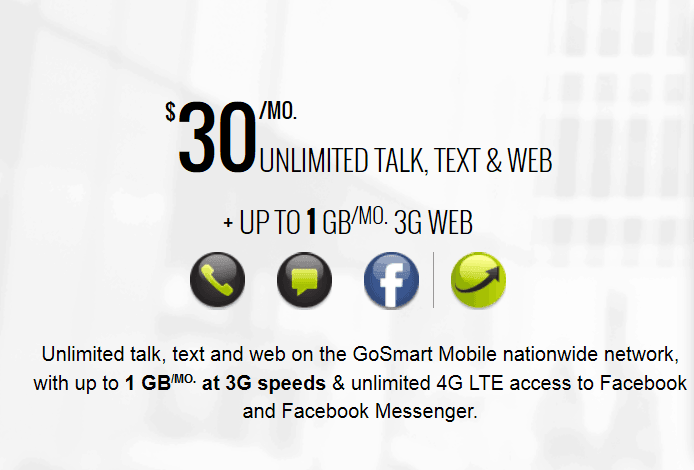 ---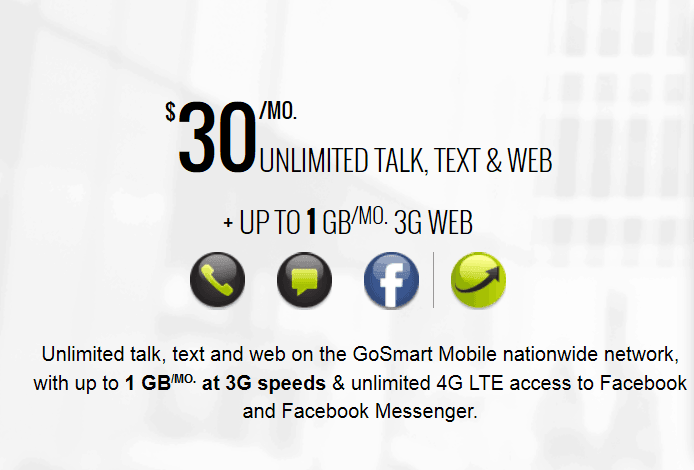 GoSmart Mobile went live today with their new $30 plan.  The new plan features unlimited talk, text (including MMS) and web with the first GB being at 3G speeds before being throttled to 2G speeds.  It's important to note here, that GoSmart defines 3G as being equivalent to HSPA+ data speeds.  GoSmart defines these speeds as ranging between 2-11 Mbps download and 500-1800 Kbps upload although I suspect real world download speeds of 2-6 Mbps.  Considering that Verizon MVNOs have their LTE data speeds limited to 5 Mbps download and 2 Mbps upload, GoSmart Mobile's speeds are relatively competitive in the marketplace.  The company does point out on their website though that their data is prioritized below T-Mobile branded customers and so in times of high network demand you may experience slower network speeds with the MVNO.
One interesting thing in regards to all of their plans is that they offer unlimited 4G LTE access to Facebook at no extra charge.  I'm far from being a net neutrality expert, but I wonder if this would be in violation of the new FCC net neutrality rules?
Plan Summary
All of GoSmart Mobiles plans offer the same thing, unlimited talk, text, mobile hotspot and data with data throttled to 2G (128 Kbps) after high speed data is used up for your price point.  Plans also include unlimited 4G LTE access to Facebook.  The only exception to this is a $25 plan that is offered, which does not include internet access except for Facebook use. A breakdown of pricing for the various data allotments is shown below:
$30 - 1 GB HSPA+ speeds
$35 - 2 GB HSPA+ speeds
$40 - 5 GB HSPA+ speeds
$45 - 10 GB HSPA+ speeds
The provider also offers a couple of add on services.  For an extra $5/month you can add an unlimited international texting service (excluding MMS) which will allow you to send SMS to over 200 countries.
An international texting and calling service bundle is also available which in addition to the texting service described above also includes unlimited outbound international calling to landlines in more than 70 countries.  A $50 international calling allowance is also included to enable calling to any mobile or landline number.
---
---