ECO Mobile Plans $30 And Up Now Include 1 GB More LTE Data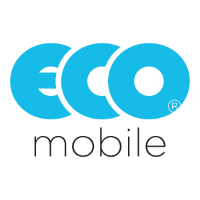 ---
Did you know BestMVNO is available to follow for free in Google News? Follow BestMVNO in your Google News app and keep up to date on wireless.
Follow BestMVNO In Google News
---
---
ECO Mobile, an MVNO that operates on the Sprint, T-Mobile and Verizon networks has increased the amount of data that it includes with each of its wireless phone plans that costs $30 or more.
ECO Mobile's Wireless Plan Changes
All ECO Mobile plans include unlimited talk, text and data with speeds slowed to 2G or 64-128 Kbps once the plans allotment of high speed data gets used up.
Unlimited international calling to over 80 countries is also included with each plan.
A summary of each plan and its changes are as follows:
$30/month - 1 GB 2 GB of high speed data
$40/month - 3 GB 4 GB of high speed data
$50/month - 5 GB 6 GB of high speed data
$60/month - 7 GB 8 GB of high speed data
ECO Mobile also offers two other plans which remain unchanged and they are as follows:
$20/month - 100 MB of high speed data
$25/month - 500 MB high speed data
Telecom taxes and fees are included in the prices shown, however state sales taxes are not and of course vary by location.
Analysis
What is most interesting about the changes is that ECO Mobile is now providing phenomenal value with their $30 plan for those who are seeking service on Verizon's network.  There is only one other service provider that uses Verizon's network to offer 2 GB of high speed data for the same price or less, and that provider is Boom Mobile.
Boom Mobile offers a plan for $29.99 that also includes unlimited talk and text with 2 GB of high speed data.  However, Boom Mobile's plan does not include unlimited data, or international calling, it does include all taxes and fees with its listed price including state sales tax.
The rest of ECO Mobile's plans are not exceptionally priced, but are of average value.
It's great to see that Verizon is offering better deals to its MVNO partners to allow them to be more competitively priced in the market compared to the rest of the major carrier MVNO's.
What do you think of these new plans?  Will any of you look to obtain service with ECO Mobile due to these new offerings?
---
Be sure to follow BestMVNO on Twitter for additional wireless coverage, deals, insights, and even debates!
Follow @BestMVNO Twitter
---
---