TracFone Airtime Bundle From HSN Includes An LG Rebel 3 With 1500 Minutes/Texts/Data For $59.95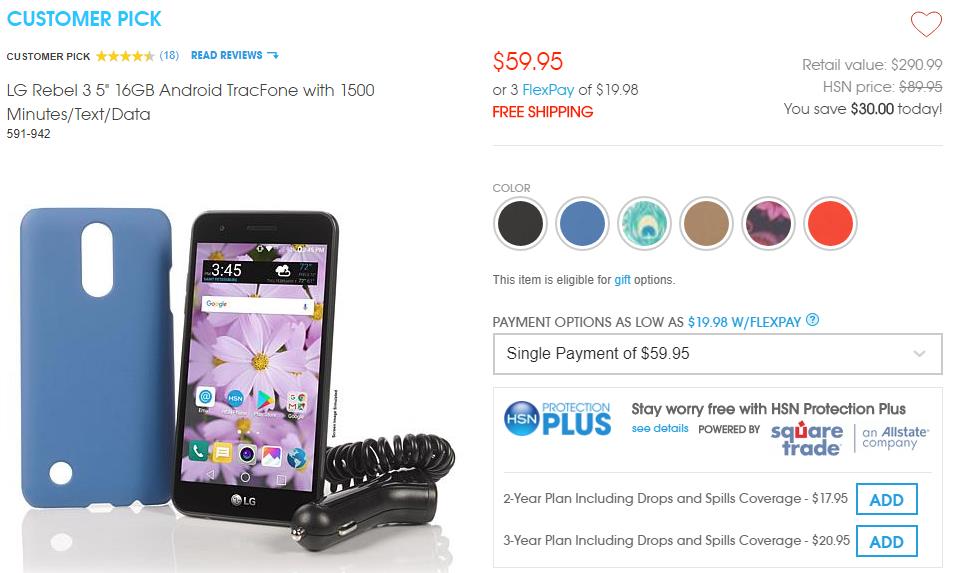 The Home Shopping Network, or HSN for short is often the go to place for stellar TracFone deals.  Today the online retailer has another great offer in tow.
The latest deal includes an LG Rebel 3 bundled with an annual service plan consisting of 1500 minutes, 1500 texts and 1.5 GB of 4G LTE data for $59.95.  Also included in the bundle is a car charger and case.  A look around the internet and the phone alone is selling for $69 at both Amazon and Walmart. The airtime itself is sold for $125 when purchased directly from Tracfone. So this deal really is a steal for TracFone fans. To top it off, service is on the Verizon network, so you can be assured of good coverage.
More About The LG Rebel 3
The LG Rebel 3 is a budget device and features the following specifications:
5" 480 x 854 screen
1.1 GHz quad-core Snapdragon 210 processor
16GB of internal storage with approximately 10GB useable. Expandable with the purchase of a microSD card
2GB of RAM
5 MP main camera with flash
5 MP selfie camera
Android 7.0 Nougat
2,500 mAh battery
Double tap screen to put it to sleep or wake it back up
Support for the following LTE bands:
2,4, and 13
If you're in the market for a new phone that you plan to use sparingly on a cellular network, this deal might just be for you.  You can get it while supplies last at the HSN.  However, if you already own a phone, Red Pocket Mobile's similarly priced annual plan that is sold on eBay may be a better value for you.
---
---