Smartel Mobile Launches as a Multi Carrier MVNO Featuring a $30 Promo Plan With 10 GB of 4G LTE Data
UPDATED: 9/17/2015
Smartel is now only offering the T-Mobile based plans mentioned below to businesses and sole proprietors.
9/8/2015
Smartel Mobile is the latest MVNO on the block to enter the prepaid wireless arena.  The company announced back in May that they had entered into reseller agreements with T-Mobile, ATT and Verizon.  As part of the announcement Smartel proclaimed that they'll be able to offer the most aggressive pricing in the USA.
Several months after the MVNO's initial announcement, they issued another press release dated August 4th, 2015 stating that their plans were now officially available for purchase.  Based on what the company is offering now, it seems that their initial rollout only included plans utilizing Verizon and T-Mobile networks.
T-Mobile Based Plans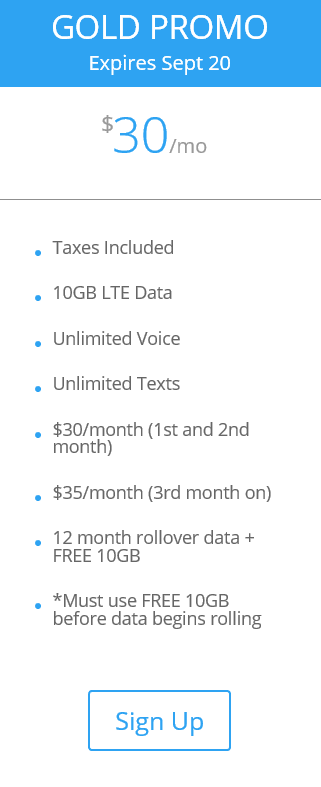 On August 25th, Smartel announced a massive promotion unlike any other to ever hit the market.  The new promo which is still in effect and lasts through September 20th includes unlimited talk, text and data with the first 10 GB being at unthrottled 4G LTE data speeds for just $30.  Taxes and fees are already included in the pricing, however a $10 activation charge gets tacked on to get you going.
The plan also includes 12 months of rollover data and an additional free 10 GB of data to go with the 10 GB that the plan normally comes with.  You must first use up the free 10 GB of data before rollover data goes into effect. After the first two months of service the cost of the plan escalates to $35/month for as long as you remain active with service.  The non promotional plan rate is $45/month and it is called the Gold plan.
Since Smartel is operating as a T-Mobile reseller as opposed to an MVNO, porting your number over directly from T-Mobile is not allowed.  If you are coming from another T-Mobile MVNO though should be just fine.  There are workarounds to the port in problem if you want to port in directly from T-Mobile.  You could for instance first port your number over to another carrier or service like Google Voice and then port it in to Smartel.  This will cost you a few extra dollars if you want to keep your current mobile phone number.
Smartel is offering several other T-Mobile based plans and they are as follows:
Silver Plan - $25/month 1 GB of 4G LTE data
Platinum - $55/month Unlimited LTE Data ((Just like T-Mobile, data is likely prioritized once you go over 21 GB in a month))
All plans include unlimited talk and text, with international calling and texting to and from Canada and Mexico.
The Platinum plan is said to include 7 GB of mobile hotspot.  The Gold plan seems like a mirror image of T-Mobile's "10 Gigs for all" promotion, and as such, I believe that plan includes 10 GB of hotspot, and likely the silver plan includes 1 GB of tethering.  Music Freedom should be available on all plans.  Although not explicitly stated on their website, I believe unlimited international SMS should be supported as well, again since at least
the Gold plan appears to be a mirror image of T-Mobiles "10 Gigs for all" promotion which does include unlimited international texting.
Verizon Based Plans
Smartel is offering 5 Verizon based plans, and the offerings aren't nearly as exciting as their T-Mobile based plans.  A summary of their offerings is as follows:
Unless otherwise noted, all plans include unlimited talk and text, and pricing includes taxes.
Bronze Plan - $28.75/month, 500 MB LTE data, 1200 minutes and 3000 texts
Silver Plan - $37.75/month, 1 GB LTE data
Gold Plan - $45.75/month 2 GB LTE data
Platinum Plan - $52.75 3G LTE data
Diamond Plan - $65.75 5GB LTE data
LTE speeds are limited to 5 Mbps download and 2 Mbps upload.
The plans here aren't really all that competitive compared to other Verizon based MVNOs and I suspect the company won't be able to move a lot of them.
Analysis
Even though pricing is stellar on the T-Mobile side of things, I would exercise caution in signing up for service with the provider for a couple of reasons.  Fist of all, it is a new company and they have no previous history or much of a company background to speak about.  Being a small business, at this time they currently do not offer phone support, so help can only be obtained via email or a ticketing system.  Wait time for email support has been reported to take up to 24 hours.  They aren't however the only company to offer no or limited phone support, as several other much more established MVNOs operate this way as well.  This isn't personally a big deal to me as I have never had an urgent need to use phone support, but I know this is important to many of you.
Another reason to be cautious is that Smartel appears to be reselling multi line T-Mobile plans and business plans as single lines to individuals.  This is something that other providers such as Harbor Mobile, and Mobal Freedom attempted to do, but ultimately had to stop offering service as it was in violation of T-Mobile's terms of service.  Given the great pricing offered for such a large amount of data I am skeptical of long term viability.  With that being said, some of you still won't want to pass up the opportunity to try and grab such a large amount of data on the cheap.  If you do try out the service, leave some comments and let me know how it works out for you.
Lastly, I assume after Smartel gets going and more into the swing of things, that they will release their Sprint and ATT based plans.  Currently you can only signup on their website to be notified when plans are offered that utilize those networks.
Sources: Smartel, BestMVNO Tipster, PrepaidPhoneNews, HowardForums, T-Mobile
---
---