Straight Talk 2020 Kickoff Includes LG Stylo 4 and Moto G7 Optimo for $59.99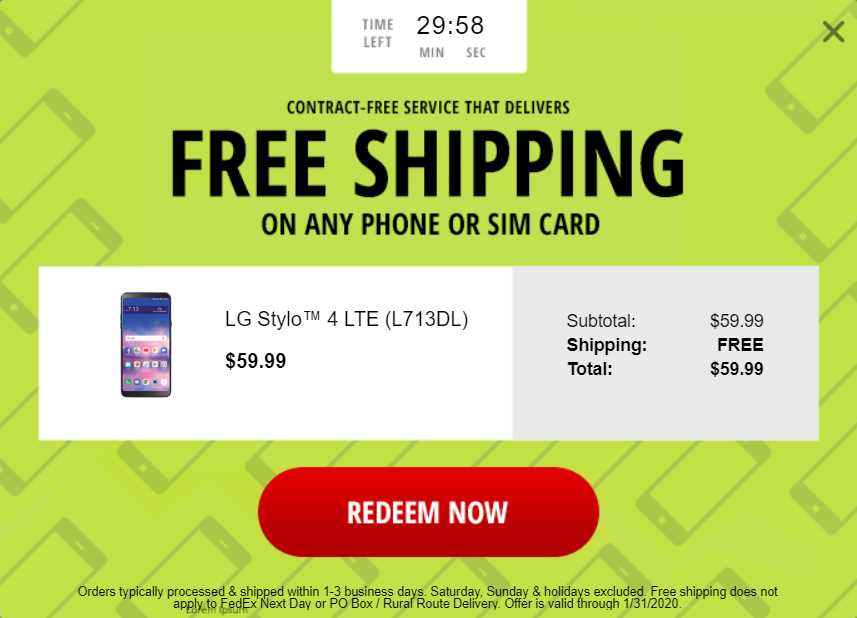 TracFone Inc's subsidiary Straight Talk has quietly started promoting a 2020 kickoff sale with several devices getting price reductions. Also available is a selection of free (with plan purchase) reconditioned devices.
While we are 20 days into the new year, these promotions seemed to have started on 1/19/2020.
With the Stylo 5 now $129 down from a previous price of $199, it only makes sense for the last generation Stylo 4 to receive a price decrease.  It should have happened long before.  Both devices have been priced the same since the Stylo 5 got its price cut just after Black Friday 2019. This was another instance of a long-overdue price change.
These offers are only available at Straight Talk's website.  As of this writing, Walmart stores and Walmart's website haven't matched prices.
Be informed of the latest deals, plans and promotions from Verizon and every one of its MVNO's when you subscribe to the Verizon weekly newsletter. No spam and you can unsubscribe at any time!
Straight Talk New Year Offers
LG Stylo 4 $59.99 from $129.00
Moto G7 Optimo $59.99 from $99.00
You can save an additional 10% on these items, only when you bundle with a service plan of $35 or higher, by using promo code SEM10 at checkout.
LG Stylo 4 with $35 airtime plan is $85.49 before taxes and shipping.
Moto G7 Optimo with $35 airtime plan is $85.49 before taxes and shipping.
Total Wireless Also Has The Moto G7 Discounted
Total Wireless is also offering the Moto G7 for $59.99 from $99.00 as well. You can save 15% at the Total Wireless website when you bundle your order with an airtime plan of at least $25, bringing your total to $75.99 before taxes & shipping. Use promo code NEWYEAR at checkout.
Total Wireless runs off the Verizon Network. The $25 plan on Total includes unlimited talk and text, but no data. You can purchase a 5GB data add-on card for $10.
Interestingly the LG Rebel 4 is still $19.99 at Straight Talk's website. Walmart brick & mortar locations as well as their website have increased pricing back to its original $39.99, due to the unexpected demand and availability of inventory.
With a $35 plan purchase, you get unlimited talk & text, with 3GB of 4G LTE data, which slows down to 2G speeds once that high-speed 4G LTE data allotment gets consumed. Straight Talk runs off Verizon Wireless towers as well.
Reconditioned Straight Talk Devices, Free With Plan Purchase
There is also a selection of reconditioned devices you can get, by only paying for a service plan of at least $35.
Promo codes will not work in these instances.
Reconditioned LG Rebel 3 free with plan purchase of at least $35
Reconditioned LG Rebel 4 free with plan purchase of at least $35
Phone Specs
LG Stylo 4
USAGE TIME Talk time up to 13 Hrs
DISPLAY 6.2'' FHD FullVisionTFT Display
STORAGE 16GB ROM - 2GB RAM
CAMERA 13MP Rear camera PDAF/5AM front camera Wide-Angle
DIMENSIONS 6.30'' (H) x 3.06'' (W) x 0.33'' (D) inches
Moto G7 Optimo
USAGE TIME Up to 40 hours
DISPLAY 5.7'' HD+, 294 ppi, aspect ratio 19:9 (1512 x 720)
STORAGE 2GB RAM + 32GB ROM
CAMERA Rear camera 13MP, f2.0, PDAF, 1.12um pixels, LED flash.
DIMENSIONS 148.71 x 71.5 x 8.09 mm
LG Rebel 4
USAGE TIME Talk time up to 16 Hrs
DISPLAY 5.0'' HD TFT (IPS) 1280 x 720 Display
STORAGE Internal Memory: ROM: 16GB - RAM: 2GB
CAMERA Rear: 8MP Autofocus / Front: 5MP Fixed Focus
DIMENSIONS 5.70'' (H) x 2.83'' (W) x 0.31'' (D) inches
LG Rebel 3
USAGE TIME Talk time up to 12 Hrs
DISPLAY 5'' Touch Display
STORAGE Internal Memory: ROM: 8 GB - RAM: 1 GB
CAMERA 5MP Main Camera
DIMENSIONS 5.7'' (H) x 2.9'' (W) x 0.31'' (D) inches
Editor's Take
I find the $59 price tag for the Moto G7 Optimo to be very reasonable. The G7 might be a better choice due to storage being 32 GB, vs the Stylo 4's 16 GB. Battery on the Moto G7 is also significantly stronger with 5000 mAh, vs the Stylo 4's 3300.
Regardless of which device you choose, both are excellent deals.
The reconditioned device offers aren't terrible either, especially if you need something and you are on a limited budget, or choose not to spend much money on a smartphone.
---
---