FreedomPop Announces Black Friday Offers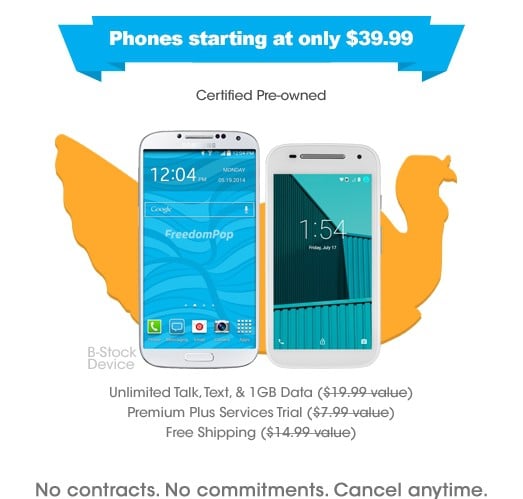 FreedomPop today announced its Black Friday deals, some of which can be had right now.
The company is offering the Motorola E 2nd Generation LTE for $39.99, originally a $149.99 device.  Also being offered is the Samsung Galaxy S4 for $99.99, which is something they normally sell for $329.99.  Free shipping is included.
As part of the deal the phones will come with unlimited talk, text and 1GB of 4G LTE data all completely free for the first month.  The plan normally sells for $19.99.  After the first month the plan will revert to a free plan featuring 200 minutes of talk, 500 SMS, and 500MB of data each month.
About FreedomPop
FreedomPop is a Sprint MVNO that offers free cell phone service as well as paid plan options.  Subscribers can signup for a completely free plan if they'd like that features 500MB of 4G LTE data every month, with 200 minutes of talk and 500 SMS.  Customers can fill out surveys and participate in advertiser campaigns to earn even more free service allotments.  Customers have the option to upgrade to paid plans as well that feature more service allotments.
Don't Miss Out On More Deals Like This!
Get the next deal delivered to your inbox as soon as it's announced!
FreedomPop operates primarily as a VoIP and Wi-Fi based service, and usage of their service requires a special app to be installed.
---
---