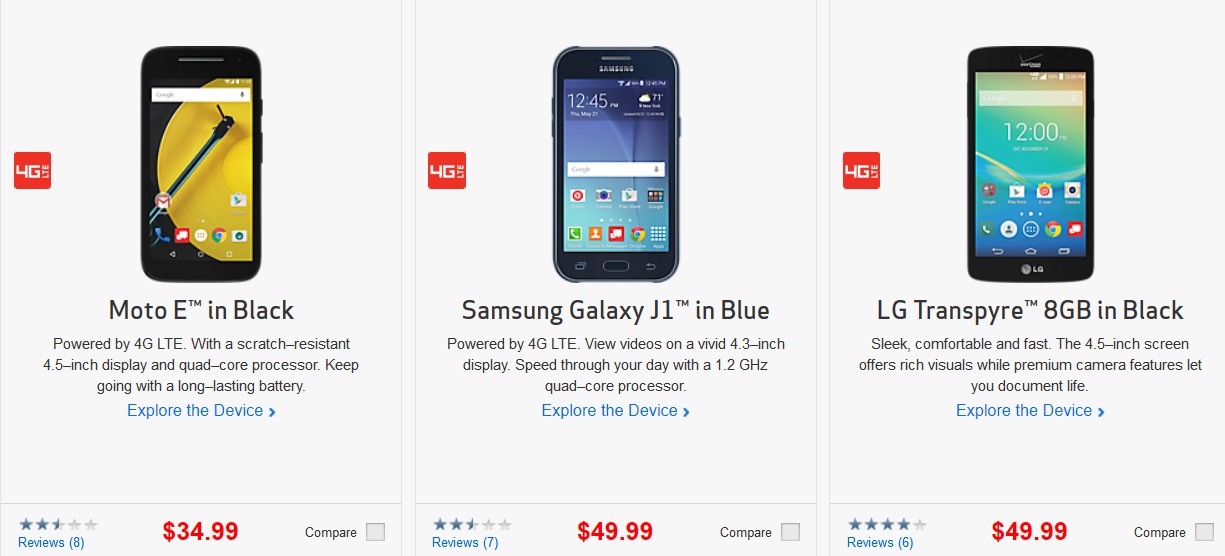 ---
---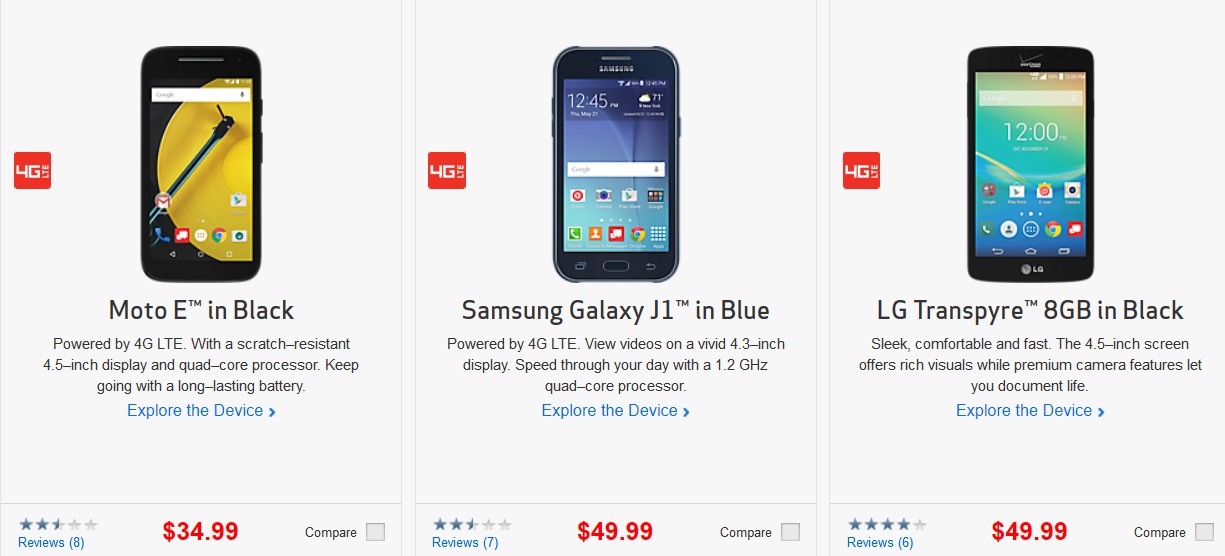 From today through 12/27/15 Verizon is offering 50% off of select prepaid phones that include the Motorola Moto E, Samsung Galaxy J1, and the LG Transpyre.  With the discount the Motorola Moto E is priced at $34.99 while the other two devices are $49.99.
The phones must be active with Verizon Prepaid service for a period of 6 months before they can be used with an MVNO or with Verizon Postpaid service.
Motorola Moto E
2,390 mAh battery
Android™ OS, Lollipop
5MP rear-facing camera, auto focus; VGA front-facing
4.5" qHD 960x540 display
FM Radio
1.2 GHz quad–core processor
8GB of internal storage expandable with a microSD card
1GB RAM
[su_button url="https://www.dpbolvw.net/f281p-85-7NVQVVVQRNPQPUUPPSNPSSTTQOSQOOOO?sid=VerizonPrepaid50percentoffphones&url=http%3A%2F%2Fwww.verizonwireless.com%2Fprepaid%2Fsmartphone-plans%2Fmoto-e-in-black%2Bprepaid%2F%23featureslink" target="blank" style="flat" background="#ed0a1c" color="#ffffff" size="5" wide="yes" center="yes" icon_color="#ef2209"]Get a Verizon Prepaid Motorola E[/su_button]
Don't Miss Out On More Deals Like This!
Get the next deal delivered to your inbox as soon as it's announced!
Samsung Galaxy J1
5–megapixel rear camera

,

2–megapixel front–facing camera operated by hand gesture

8GB of internal storage expandable with a microSD card
4.3" WVGA PLS Display (800 x 480)
1.2GHz Quad Core processor
1GB RAM
1850mAh Li-Ion removable battery
[su_button url="https://www.tkqlhce.com/fs105y1A719PXSXXXSTPRSRWWRRUPRUUVVSQUSQQQQ?sid=VerizonPrepaid50percentoffphonesGalaxyJ1&url=http%3A%2F%2Fwww.verizonwireless.com%2Fprepaid%2Fsmartphone-plans%2Fsamsung-galaxy-j1-in-blue%2Bprepaid%2F" target="blank" style="flat" background="#ed0a1c" color="#ffffff" size="5" wide="yes" center="yes" icon_color="#ef2209"]Get a Verizon Prepaid Samsung Galaxy J1[/su_button]
LG Transpyre
Knock On™ – double tap the screen to put your phone to sleep/wake it without picking it up
5.0 MP Rear–Facing Camera with LED Flash, 1.3MP front facing Gesture camera so that you can take selfies with wave of the hand
4.5" In–Cell Hybrid LCD Display 800x480
Qualcomm® Snapdragon™ 1.2 GHz Quad-Core
8GB internal memory expandable with a MicroSD card
1GB RAM
Android 4.4 Kit Kat
2100 mAh battery
[su_button url="https://www.anrdoezrs.net/rn68biroiq5D8DDD895787CC77A57AABB86A86666?sid=VerizonPrepaid50percentoffphonesLGtranspyre&url=http%3A%2F%2Fwww.verizonwireless.com%2Fprepaid%2Fsmartphone-plans%2Flg-transpyre-8gb-in-black%2Bprepaid%2F" target="blank" rel="nofollow" style="flat" background="#ed0a1c" color="#ffffff" size="5" wide="yes" center="yes" icon_color="#ef2209"]Get a Verizon Prepaid LG Transpyre[/su_button]
---
---