Amazon's Latest Deals Feature The Samsung Galaxy S9+ for $639, S9 For $519, S8 $398, Note 9 $799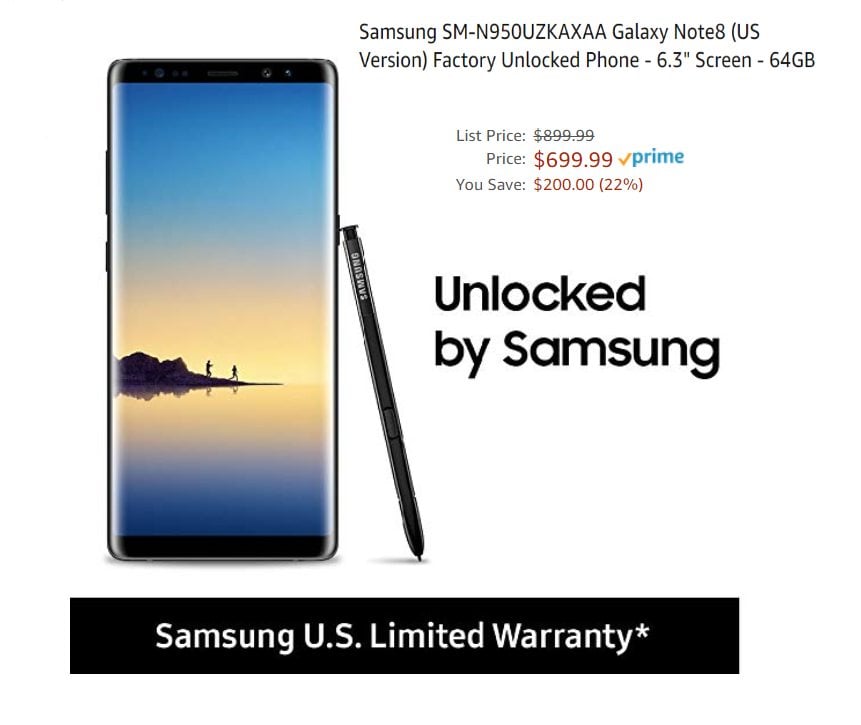 Amazon has quite a few good deals on some unlocked phones.  Many are likely to be Black Friday deals.  Several unlocked Samsung Galaxy phones now either match or beat Black Friday deals that are currently being offered by Samsung.  Of course that's not all Amazon is offering on a discount.  Unlocked phones from other manufacturer's such as Motorola are also available at a discount.
Here's what's cooking at Amazon:
Samsung Phones
Motorola
LG
LG V35 ThinQ 64GB Unlocked Prime Edition - sale price $549.99, standard pricing $899.99
LG G6+ 128GB unlocked Prime Edition - sale price $399.99, standard pricing $799.99
LG Stylo 4 32GB Unlocked Prime Edition - $179.99, standard pricing $299.99
Some of the Amazon deals can be found elsewhere.  The Samsung Galaxy deals are available in stores at places like Best Buy.  The discounts offered are generally the same that are also available at Samsung, and are probably the lowest Samsung is allowing its retail partners to sell the devices for.
Fore more holiday phone deals, be sure to check out the Black Friday 2018 deal tracker as I work to add these new deals from Amazon to it.
Don't Miss Out On More Deals Like This!
Get the next deal delivered to your inbox as soon as it's announced!
---
---