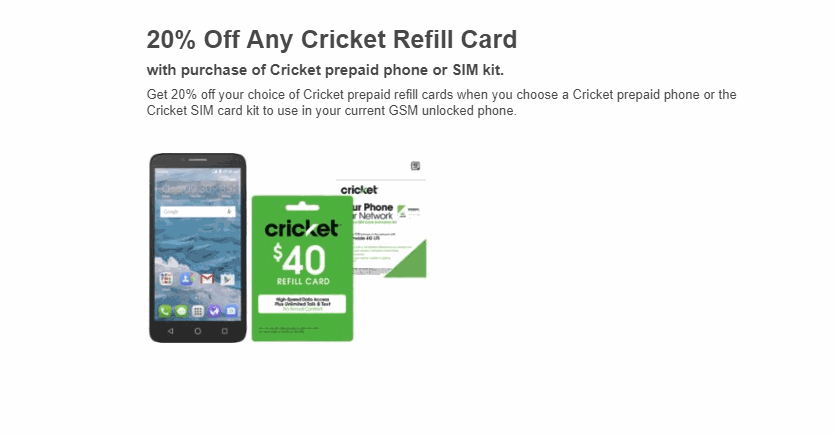 ---
Best Buy is currently running a sale on Cricket Wireless refill cards.  Those that purchase a refill card in conjunction with either a SIM card or a phone will get 20% off their refill card purchase.  Customers who purchase a phone, SIM card and refill card will receive an additional $50 off of the price of the phone.
At the moment Best Buy is selling two different Cricket Wireless SIM cards.  One is an older SIM card on clearance for $3.99, which is what you'll probably want to purchase if you are a current customer looking to refill on the cheap.  The newer SIM card kit is selling for $9.99.
Refill Card Pricing Discounts
With the 20% discount applied, Cricket Wireless refill cards are priced as follows:
$30 refill card - discounted to $24
$40 refill card - discounted to $32
$50 refill card - discounted to $40
$60 refill card - discounted to $48
Those in need of a new phone may want to take advantage of the $50 off offer by purchasing one of several unlocked phones that Best Buy already has on sale.  For instance, the unlocked Motorola X 4th generation is currently on sale for $299.99, or $100 off the regular price. When bundled with a Cricket Wireless SIM card kit and refill card priced at 20% off, you can get the phone for just $249.99. All together, the bundled package offers some pretty nice savings.
If you are a Simple Mobile or Boost Mobile customer a similar offer is available to you. When you purchase a SIM card kit with a refill card and unlocked phone, you'll also receive $50 off the price of the phone. Boost Mobile customers will even get their second month of service free when they purchase Boost Mobile's $50 unlimited plan refill card.
---
---